Large Breed Pet Door with 14.5 x 12" flap opening
* Finding the right pet door is important, and there's a lot to consider. Of course, the size of your pet versus the size of the pet door is paramount, but have you considered what kind of winds the door's exterior experiences, or what kinds of creatures from your backyard might sneak in?Soft flap pet doors, flexible and safe, are a great choice for many pets and many houses, but with exposure to use and abuse from pets and weather alike, they tend to curl and lose their ability to create a seal. This offers plenty of opportunity for unexpected and unwanted guests like chilly breezes and woodland critters to enter through your pet door.The benefits of hard plastic pet doors:
* -- Secure locking mechanism keeps unwanted critters out when door is not in use
* -- Weather-proof seal with bristles and gentle magnet closure insulates without being difficult for pets to open
* -- Low maintenance and very easy to cleanThe door's opening is 14.5" tall and 12" wide, which is suitable for cats and many large breeds of dogs like labradors, collies, retrievers, German shepherds and basset hounds. If you're unsure, just take two measurements: the widest part of your dog, and from the top of their shoulders to the bottom of their chest. Leave an extra 1 to 2 inches of clearance for comfort and safety, and be sure to account for future growth if your dog is still young!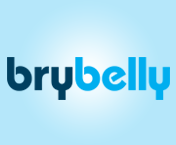 Brybelly Holdings, Inc. was co-founded by Jeff Smith & Knute Lentz in 2004. Brybelly operates many websites and offers products in a retail and wholesale capacity to customers in several different industries including Gaming, Toys and Health and Beauty.
All Brybelly Holdings, Inc. products
Product weight:

3.50

lbs
Product dimension:

17" x 14" x 2"
This product is shipped from our warehouse in Indianapolis, IN, USA.
This product is brand new and includes the manufacturer's warranty, so you can buy with confidence.
Please submit your product question using this form. All fields are required.