Two Row AB Crystal Size 18 Bright Pink Dog Collar
* 3/4" wide collar adorned with 2 rows of rhinestones and a rhinestone buckle.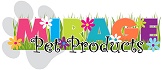 Sold on 6 continents, in over 40 countries, Mirage is a family-owned pet products manufacturer that has a reputation for supplying great products to businesses in the pet industry.
Mirage is a socially conscious company, giving back to help with social issues facing our world. From drilling wells for clean water and working to help increase the population of endangered animals in Africa to assisting in tragedies across the developed world, as well as working with rescues and shelters, Mirage Team is truly proud of their ability to make the world a better place than it was when they got here.
All Mirage Pet Products products
This product is shipped from our warehouse in Aurora, MO, USA.
This product is brand new and includes the manufacturer's warranty, so you can buy with confidence.
Please submit your product question using this form. All fields are required.